20th Anniversary
Products Admin
2 decades ahead of the curve
It's been 20 years since two simple concepts were merged to give birth to a new brand with a clear objective: to create the best Ergonomic Pouch Underwear. This is the story of how we became a pillar of innovation and creativity aimed at perfecting something seemingly simple such as Male Underwear.
Ergowear's Inception
During our earlier days, we concluded that regular underwear serves a practical yet undeveloped purpose. As men, we were fully aware that our anatomy has its shortcomings when adapting to modern garments such as heat retention, skin friction and irregular shapes not fitting properly with every single piece of clothing.
And, of course, or genital area is the most delicate, exposed, and precious area in need of better garments. No underwear design can ever solve every single man's need, since this is also the part of our body that varies the most among us men.
So, one of the pillars of our brand was born: the goal to provide multiple solutions that would make regular underwear a thing of the past for those bold enough to try a concept coming from outside the box: Pouch Underwear.
And don't forget how much the world has changed during these 2 decades. Talking about genitalia and men's needs was not really a taboo back then, but a conversation many of us didn't feel comfortable having. That's why our first approach as a disruptive brand was to show directly yet elegantly what we are all about: superior comfort for your most sensitive area.
That's how -and maybe you noticed already- we dared to include an abstract depiction of a male penis and its testicles as part of our brand identity. This subtle symbol has been there for the most part of this ride and it was our first sign that we didn't really care what people like to try or talk about. We care about solving an issue most men don't realize about their own bodies.
"Our logo symbolizes everything we are: The center is an abstract drawing of men's genitalia, as part of a logo with predominantly round shapes that stand for human shapes and proportions. But also, our logo has to dynamically accommodate itself between two invisible horizontal straight lines that symbolize the man-created, sometimes hostile environment that surrounds us."
The Real Pouch Underwear
But what is Pouch Underwear? That's a question we still need to answer every day to men that have never heard of this revolutionary concept.
Pouch Underwear isn't really trying to re-invent the wheel, but it aims at perfecting it. We took several successful elements of regular underwear such as waistband, broader area for genitals, fabrics and designs; and worked on adapting them to provide a better experience for our daily lives.
Better elastic materials and classy designs for our waistbands. Quality fabrics in many different colors fitting any style. Bikinis, Thongs, and Jockstraps as well as more classic designs such as Boxers and Mid-cuts. All those improvements are complimentary to what's really a breakthrough of our products: the pouch.
The frontal area of our products is equipped with a pocket designed to hold and support your genitals. Through 3 different designs aimed at different types of needs, we provide that which you didn't know you needed in your life: a feeling of everything fitting perfectly as it never really did before.
HIP is our most conservative design. It's one of our latest yet most requested pouches, since its primary goal is to provide the pouch experience while being less noticeable and a smaller leap from most underwear. That's why we call it our entry-level pouch.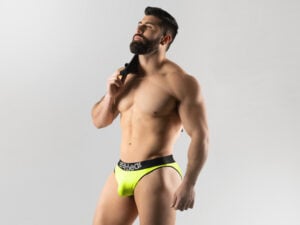 FEEL is an almost 10-year-old design which became the world's first 3D pouch without a vertical seam through the middle, removing any direct friction with the front of the undergarment. Its Half-Moon shape gently opens in front of your genitals with plenty of room for you to place your penis without any confinements and has become a fan-favorite for our most well-endowed customers.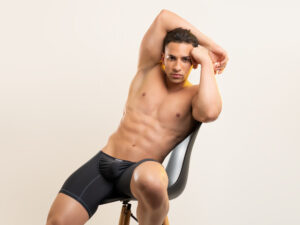 Meanwhile, MAX, SLK and X4D pouches are a direct and bold answer to one of our most common issues as men: holding everything in place. This concept gently wraps your anatomy with quality fabrics and makes sure it stays there during any activity. Though it's a very "out-there" design that will not hide any of your genitals shape, it also enhances and stylizes the look of your lower body, something many of our users have claimed to enjoy during the company of their significant others.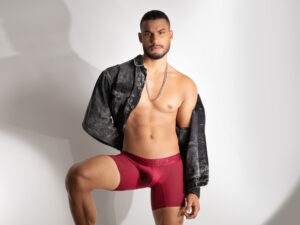 Once you go pouch, you never go back. Don't hesitate to try it, and remember that there is a design for every type of need and body.
20 years of Ergowear and MAX XX Anniversary Edition
Earlier this month we hosted our twentieth anniversary event which celebrated our biggest milestones through 2 decades of relentless innovation and passion.
In a glamorous night full of music and handsome models, participants enjoyed a fashion show where our most important creations and innovations thorough these years were displayed.
Let's go for 2 more decades of success, together!
Now, with this amazing and even unexpected milestone of becoming a 20-year-old brand, we are looking to the future with renewed ambition and commitment.
What challenges lay ahead? We can't know, as this everchanging world has proven for the past 3 years. All we know is that a huge fanbase and faithful customers are counting on Ergowear to keep delivering both comfort and style to their wardrobes, and we will not back down on that expectation.
We are grateful to everyone who has been part of this 2 decade long adventure, from our multiple teams working at Ergowear, providers, and collaborators all over the world to our very fans and customers that trusted our vision and shared our passion to become a better product every single day.
See you in 2032 for our 30th Anniversary!