OUR VISION
Welcome to the home of The Real Pouch Underwear.
For the past 20 years, our designs have become industry-defining garments designed to provide every man with the best underwear experience. By researching and innovating new ways to provide quality underwear, we've embraced the idea of adapting: to male anatomy, to new and bold trends, to the changing times, and to every challenge ahead.
That's how as of 2022 we've created plenty of designs to fit every need, even beyond underwear. We gathered years of experience and knowledge to expand our horizons and create new Activewear and Swimwear alternatives, always boasting Ergowear's signature quality fabrics and Genital Pouch designs.
This is the world's first three-dimensional pouch with no irritating seam in front, reducing friction in your most sensitive areas. It stands for Fully Ergonomic and Elasticized, and simply adapts to your genital shape, size and wearing habit.
This is our pioneering, 3-dimensional nose-shaped pouch, which enhances the shape of your genitals while gently lifting and holding everything in place.
MAX means no constrictions, no tightness, and soft touch against your skin.
Pouch Underwear may be uncharted territory for some, and HIP is a great, less "out there" design to start with. If you feel like trying something new, we promise that once you go pouch, you'll never go back.
---
A timeless and reliable piece of underwear that we're all familiar with, boxers are a perfect choice for those looking for a trusty undergarment for their daily activities. Far from simple underpants, our designs boast Ergowear's signature enhancing pouch, as well as quality fabrics to reduce friction along your thighs and genitals.
A fairly new and bold piece of undergarment that has become a popular choice among men. We have adapted the originally female concept of bikinis (at least the bottom part) to address the needs of male anatomy, lifting and enhancing your genitals to provide superior comfort regardless of size and shape.
The closest thing to not wearing anything, thongs are some of our fans' favorite pieces of underwear. If you're feeling spontaneous or uninhibited, or just looking to surprise your partner while looking extra handsome, our designs provide both comfort and style for every type of body.
Even the most common type of male underwear has room for some improvement. We have equipped our designs with the best fabrics available to provide a smooth sensation for your skin, while gently lifting and holding everything in place. If you're looking for a safe, reliable choice, there's no better alternative than Ergowear Midcuts.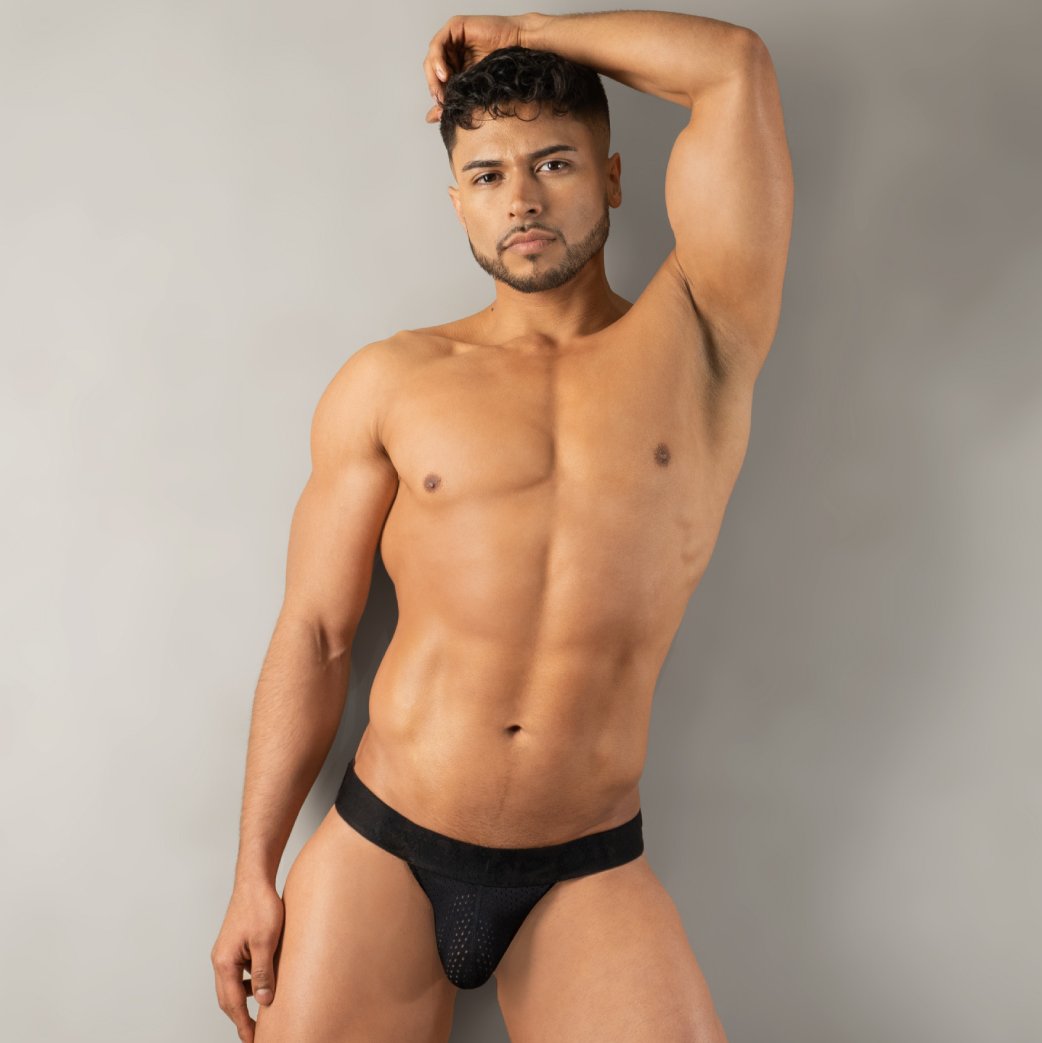 Probably the closest thing to not wearing anything, jockstraps were originally designed as a protective garment for intense physical activities. Now a popular choice of underwear, our designs offer plenty of support for your genitals and glutes while providing superior comfort and smooth contact with your skin.
Designed as a hybrid between long johns and sports tights, these leggings are our alternative for indoor or winter activities. We wanted to provide cover and smooth touch against your skin – as well as our signature enhancing pouch designs. All while keeping the stylized shape of your legs that other many full-length garments would conceal.
These activewear pants are a combination of some of our greatest designs yet. Our gym shorts are manufactured with high-quality, fast-drying fabrics fashioning a low cut on the outside for total freedom. But that's not all! Concealed inside you'll find an elastic mesh interior boasting one of 2 enhancing pouch designs and either a thong or bikini-like rear for you to choose what fits you best.
Not only are jockstraps an excellent alternative to share in intimacy with your partner! They provide extra support to your anatomy while exercising or going for a run, and some of our Activewear designs include breathable, quality fabrics to reduce chaffing and heat accumulation during workout.