Leggings: the best companion for a cold winter
Products Admin
Winter is officially here and there's no better time to try Ergowear Pouch Leggings.
Don't let the cold stop you!
With the final days of the year comes winter, a season that brings holidays, snowy vistas and some days that chill you to the bone. As experts forecasted, winter 2022-23 is already testing our bodies with temperatures falling below freezing. For those sudden temperature drops, we have a solution to keep you warm during any activity: Pouch Leggings.
Earlier in December we released a new collection of leggings and biker shorts with 3 new colors to choose from. With 2 decades of innovation behind us, we took the best of our underwear designs and ideas to a new frontier: activewear. Once again defying the obvious, these pouch leggings and bikers offer a hybrid design for our fans to wear while exercising, either as an inner or outer layer.
That's where most of Ergowear's groundbreaking concepts really shine: we provide a choice for every moment, place and situation. And above all, a choice adaptable to any man's need. Whether you're indoors or outdoors, playing sports or taking a light stroll… Even during the upcoming cold weather you can wear these as you see fit. And they always fit.
Now, as winter takes over, many of us will wear these pouch leggings as an extra layer of protection against the cold. Thanks to our flexible and smooth fabrics -not to mention the best pouch available out there- you'll feel as comfortable as ever, even during intense workout routines.

MAX XX: The Pouch behind the Leggings
But let's talk about the star of the show. This new activewear collection boasts Ergowear's signature MAX Pouch, a reliable design also featured in some of our best selling underwear.
A concept as simple as a pocket designed to hold your genitals, this groundbreaking way of understanding underwear is becoming a new trend we're proud to be pioneers of.
---
If you haven't tried pouch leggings or underwear before, we have you covered. From entry-level to advanced designs, Ergowear has exactly what your body needs. Be sure to check our Instagram community, where you'll find a handy guide to help you pick the perfect style for you.
---
Regular underwear evolved as a simplified version of old garments, but only recently have we become aware of how little it solves most men's needs. Every single one of us is unique down there, and we deal with various sizes and shapes, as well as different degrees of friction, heat and many other conditions.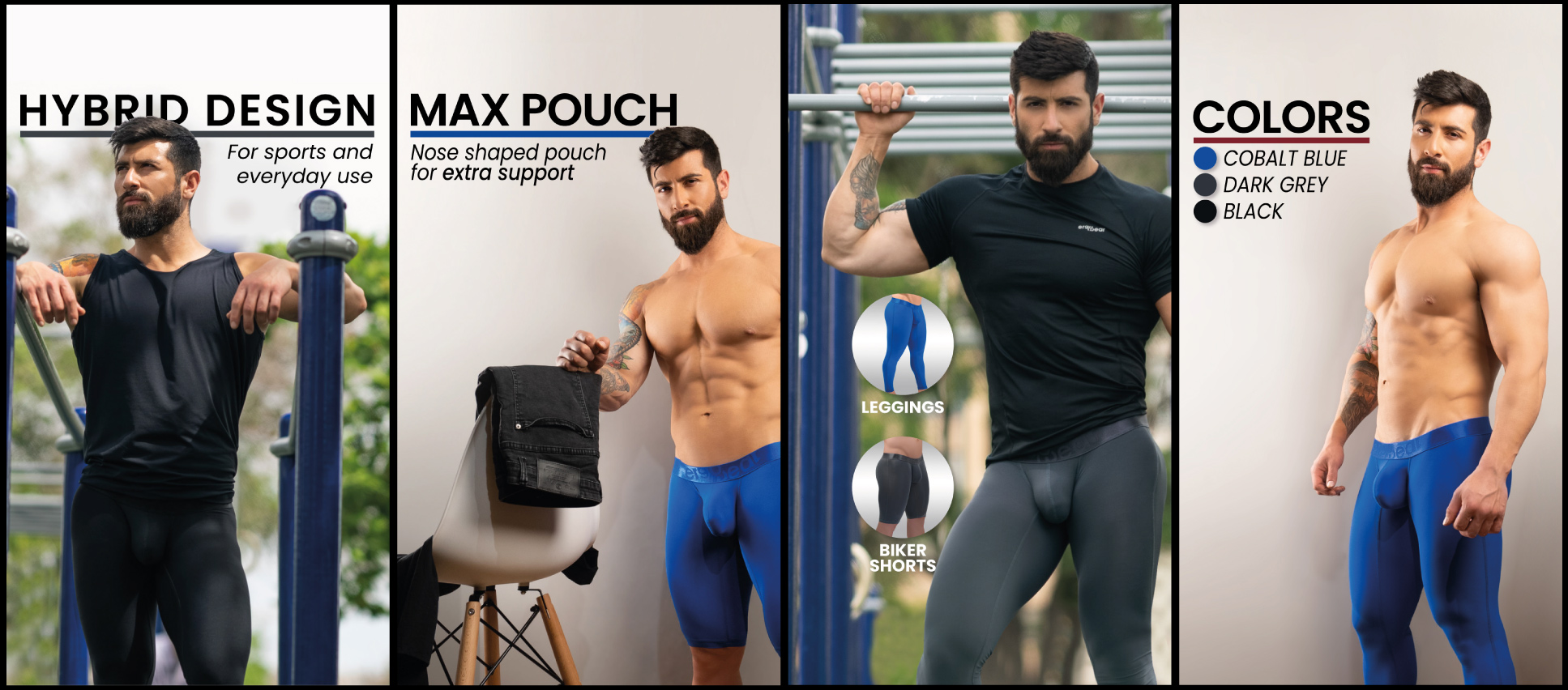 That's why we've spent 20 years perfecting our underwear designs, eventually leading us to our newly released MAX XX Pouch Leggings and Bikers. Featuring the best of both worlds, you can be certain they provide the same comfort, support and smooth feeling as our underwear. Even against the unforgiving cold of winter, their hybrid design offers an extra source of warmth without the need to wear additional clothes, especially during exercise and intense activities.
Winter has come, but it doesn't mean it's hibernation time. If you're into sports and working out, now there's reason to stop doing what you love. Try these pouch leggings and bikers and experience the best of Ergowear in any way you like.
We wish you the best holidays and an even better 2023!